Mini-Review published in New Microbes and New Infections journal (Elsevier)
Abstract
Alarming situation has been caused due to the emergence of COVID-19 infection around the world. There is an urgency of developing a therapeutic strategy in order to control the spread of COVID-19. Towards that initiative, potential drugs like hydroxychloroquine, ivermectin and azithromycin have been tested by diverse group of researchers worldwide for their potential against novel coronavirus.
The present report presents together the comprehensive knowledge derived from the major researches about the above drugs altogether in context of the current health emergency around the world.
Hydroxychloroquine and ivermectin were known to act by creating the acidic environment and inhibiting the importin (IMPα/β1) mediated viral import. Azithromycin was found to act similar to the hydroxychloroquine as an acidotropic lipophilic weak base.
All the three categories of drugs seemed to potentially act against novel coronavirus infection. However, their efficacies need to be studied in detail individually and in combination in-vivo in order to combat COVID-19 infection.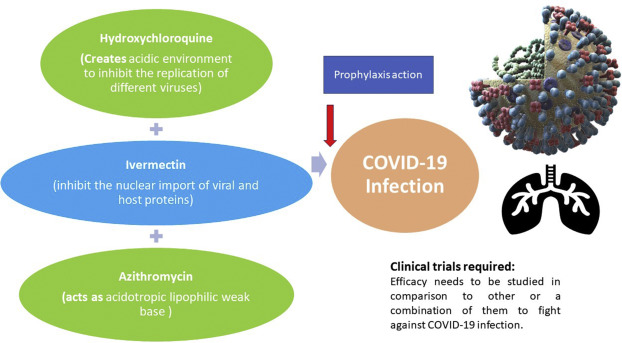 ---
---